Talk-like-a-Pirate Day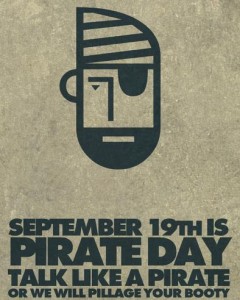 A rather interesting holiday most of us might not be aware of is the International Talk-like-a-Pirate day. Pirate enthusiasts from all over the world celebrate this by gathering and talking like pirates. Allegedly invented by two men playing a ball sport, who reportedly kept saying 'Arrr' instead of the regular 'ouch'. The two men, namely John Baur (Cap'n SLappy) and Mark Summers (Chumbucket) succeeded in further publicizing the holiday by writing a letter addressed to humor columnist Dave Barry.
The holiday was unofficially adopted by the Pastafarianism religion of the Church of the Flying Spaghetti Monster. It started when Bobby Henderson wrote about believing in a deity called the Flying Spaghetti Monster, and how pirates were the first advocates of Pastafarianism in the world. As the satirical letter gained more attention, it began to form a group of believers; then, their followers grew, and so did the number of official members of the pastafarians.
Invoking the argument that if there was to be only one god, then it might as well be in the form of a flying spaghetti monster, controlling the world and its inhabitants with its 'noodle-y appendages', the Pastafarians have now become a popular 'religious' belief amongst European youth. The success of this religion lies mainly on the humor they apply to all their activities such as propaganda and proofs. Even their doctrines are quite quirky. Every year, they celebrate quirky holidays and have adopted the International Talk-like-a-Pirate day as their own.