Blasphemy and Pastafarianism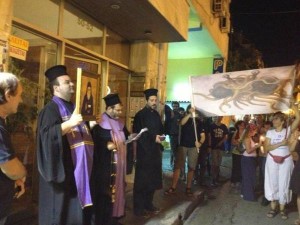 In Greece, a man is currently facing a possible prison sentence because of some alleged blasphemous act against a revered Greek Monk. The man, who will remain unnamed for the moment, allegedly put up a parody site on the giant social networking site, Facebook. His site parodied the monk named Elder Paisios, and he used the Greek dish Pastitios as his profile name.
There are very specific laws against blasphemy in Greece, and Pastitsios' site allegedly mocking the Elder Paisios is incriminating. The 27 year old is currently facing the said blasphemy charges after being complained about by Christos Pappas from Golden Dawn.
The Facebook page contained images if the deceased Elder Paisios that have been photoshopped, but has now been deleted after Pappas wrote about his concern to the Greek Religious Affairs Minister. Blasphemy is a very serious offense, and can carry a maximum fine of €3,000 (equivalent to about £2,400) and an imprisonment sentence of two years.
The Greek Penal Code states that "anyone who publicly and maliciously and by any means blasphemes God shall be punished by imprisonment for not more than two years". Another article under the Penal Code also penalizes anyone "who publicly and maliciously and by any means blasphemes the Greek Orthodox Church or any other religion tolerated in Greece".
Greek Cyber Crime police officers arrested the man last September, at his home, which was on a farm. He was released temporarily, pending a trial. His arrest enraged several members of the Church of the Flying Monster, trending the topic on Twitter.