Pastafarianism supports Marriage Equality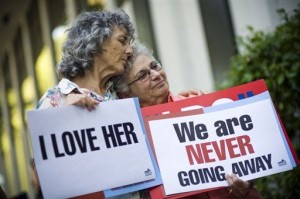 Last October 7, 2012, the Seattle Atheists Organization hosted a benefit dinner for the Washington United for Marriage Group. This was the Flying Spaghetti Monster Dinner, held at the Old Spaghetti Factory at 2801 Elliot Avenue in Seattle, Washington D.C. Donations were forwarded to Washington United for Marriage.
The proponents of same-sex marriage in Seattle wanted to encourage those committed couples to strongly vote for the approval of the Referendum 74, which aims to keep religious doctrine out of the laws of the State. One of the major issues that were tackled during this small assembly was the most recent tactics of the opponents of same-sex marriage in Washington.
Some of the newest tactics of anti-homosexual marriages have garnered high criticism and disapproval from the different pro-marriage groups. Some members report that they have been contacted by alleged members of a group called 'Citizens of Washington United for Marriage'. The aim of the callers is to confuse their victims into voting 'no' for the referendum instead of 'yes'.
The so-called 'Citizens of Washington United for Marriage' group does not actually exist. This incident has brought more tension between pro and anti same sex marriage groups. In light of this, the Seattle Atheists have voiced their dismay against those claiming to be following 'God's law', quoting one of the Christian 10 Commandments, specifically "Thou shalt not bear false witness…" Groups are now trying to track down the organization or individuals behind these prank calls.